N+ Budget Fun For PSP
Published by Guru on Sep 16th 2008
In a recent streak in an attempt to get gamers more interested in the PSP, Sony has a stroke of genius. Patapon was the budget title of last quarter, and N+ is the budget title of this quarter. Both of these games bring untold amounts of fun via the PSP experience, both for under $20. Just what is N+?
N+ is a sequel to the highly acclaimed flash based game, N. In N, you take control of a ninja who you guide through several episodes of exploding mayhem and fun in an attempt to collect all the gold from each level. N become hugely popular among the web-based gaming community and eventually, Microsoft commissioned the company behind it to create an Xbox LIVE version. This version was so successful, it is now being released for the PSP and DS platforms.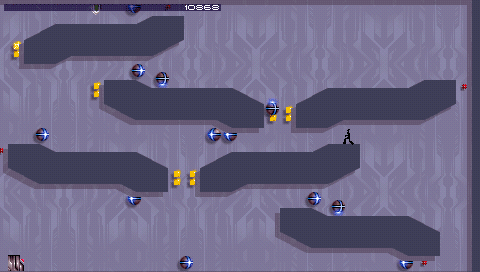 N+ for PSP is a completely different game than what's available on the Xbox LIVE arcade, so if you've got that and you've played N on the web, you're in for an entirely new experience. While the gameplay and mechanics of the game are the same, the levels are completely different. Just as with the first N and N+, N+ for PSP features 50 episodes of mind bending and sometimes nerve wrecking fun to be hand. N+ features revamped graphics which are remniscient of its Xbox LIVE counterpart. Aside from the graphics, one of the best features of N+ for PSP is the level editor it includes. This allows you to create levels which you can then play either by yourself, or online with friends. You can submit your levels online and have others play and rate them. If level creating is not your forte, you can always try your hand at some of the user created levels available online. To date, there are about five hundred and counting, each with different difficulty ratings. You can even try your hand at multiplayer co-op with people online. There are several different modes, including race and survival. This is perhaps the best community based feature, especially for a budget game.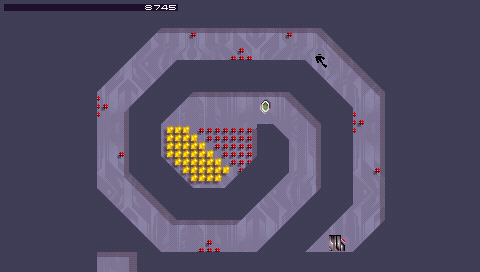 In addition to these great online features, N+ also contains some new unlockables. Once you beat an episode, you'll receive a new unlockable in the form of a new dance animation, or a new ninja entirely. There are a variety of colored ninjas for you to unlock, so you don't have to go through the game sporting the same black ninja. The dance animations that are unlocked are also used from that point on, once you complete a level in an episode. While it doesn't add to the gameplay of the game, it does give the game some flair and a sense of what you're achieving.
If you're a fan of the original web-based N, or you loved the Xbox LIVE version of N+, then you should definitely check out N+ for PSP. The difficulty scales just as well as the original version, and you'll find yourself addicted for hours on end, especially in the maddening parts of the last few episodes of the game.